You are here:

Quantum ONE
Quantum ONE
QUANTUM ONE
is designed to perform accurate and precise pigmentaion, used in permanent make-up or microneedle therapy system (MTS).
Sooner or later, each linergist will admit that career development and professionalism are one thing, but equipping your hand with the best device is essential.

That's why the QUANTUM was designed...

Battery life:
Up to 10 hours

Speed:
17500 - 22000 revs/min (RPM).
Needle extension regulation:
range - 0-2,5 mm.
QUANTUM handle
Made of anodized aluminium. The connection between the handle and the panel with a cable is parallel to avoid mechanical damage during the usage. The handle is equipped with an original German second generation engine with low noise levels (around 45dB), smooth speed and a lot of power.


Top-notch components used in the process of production make it incredibly sturdy, overheating-resistant, minimize vibrations and use little energy.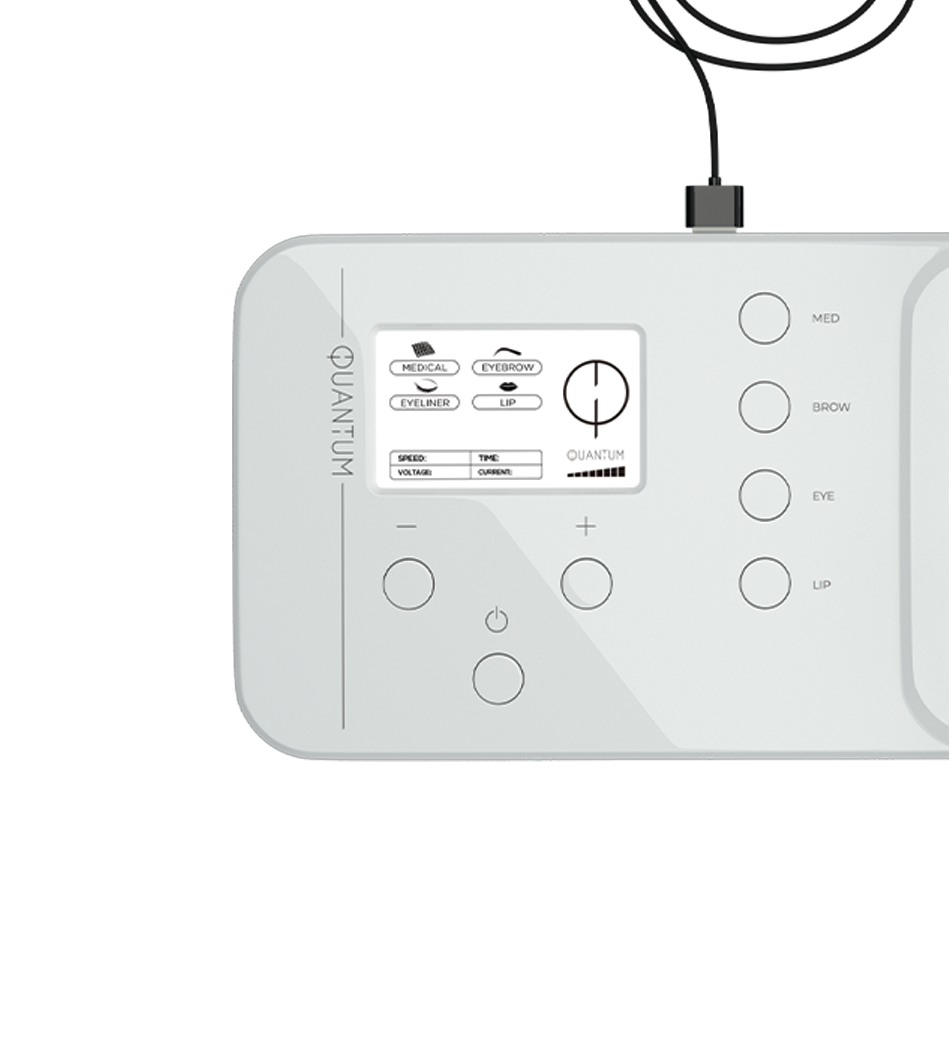 It shows current work mode, the number
of working hours and speed
The system contains 4 automatic modes.
The QUANTUM panel
intuitive, light and compact
It shows current work mode, the number
of working hours and speed
CE cerificate confirms that the QUANTUM fulfills
all the required directives.
QUANTUM cartridge
The cartridge system, designed for QUANTUM, makes working on details comfortable. The cartridge has a slot to pour the pigment, which can also be taken from a pigment container.

Each set contains 15 cartridges, designed to work with all the pigments available on the market.
Each cartridge is vacuum-packed in a sterile packaging with a medical certficate of safe sterilization.
SPECIFICATIONS
Model: Q-ONE
Speed: 17500 – 22000 revs/min (RPM).
Power supply: 100 – 240 V 50/60 Hz
Output: DV 7.5V – 1A
Production standard: Q / BST001
Weight: 2,5 kg
Box size:
240 x 335 x 62 mm
Water-resistance level: normal equipment (IPXO)
Charging battery time: 2 hours
SPEED AND MODE
The QUANTUM speed range is from 17500 to 22000 revs/min (RPM). In each selected mode there is an automatic speed setting for determined pigmentation. The system contains 4 automatic modes. According to your preferences, you can change the revs' number manually with + and - buttons.
POWER
After plugging into an eletrical outlet the QUANTUM ONE device works continuously. The panel has also a built-in battery, which makes it possible to work in crisis situations, such as a power cut, or when it's difficult to access a power source. Using the built-in battery limits also the number of the cables used to a minimum. The battery charging time is 2 hours (2h), and the battery life (on the highest speed) is up to 10 hours (10h). Working on the direct current doesn't require charging the battery, but it charges independently after being plugged into an electrical outlet.
IN THE BOX
- 1 QUANTUM panel
- 1 QUANTUM micropigmentation handle
- 1 QUANTUM charging adapter
- 1 USB cable
- 1 cartridge box (15 pcs)
- 1 user's manual
- 1 guarantee certificate