Natural products from ROSA are a mandatory addition to the permanent makeup procedures of every PMU artist
2023-05-10
Natural ROSA products - the essential complement to every permanent makeup artist's treatments
ROSA products are my discovery of the year 2023, and from the very first use, I knew that they had to be part of the Quantum store's offering and be an essential complement to every training session at the Osinkowska training center. Their natural composition and carefully developed formula, created in collaboration with chemists, make ROSA products perfect for working with both pigments and skin. They have a tremendous positive impact on work during the treatment, directly after it, and during the healing process.
Each of the products is unique, and in this article, you will find a description of each of them, including my favorites (although, in fact, all of them should make it onto this list).
ROSA products can be divided into products that accelerate pigment implantation, skin cleansers, products that seal pigment in the skin, and post-treatment skincare.
ROSA Pigment Booster Oil gel is an exceptional product with a gel-oil consistency, specially developed with the "Pigment Booster" 2 complex to accelerate pigment implantation. This oil-gel brings the skin to an ideal condition, regardless of skin type, making it optimal for pigment implantation. Thanks to its softening and moisturizing properties, it creates a uniform color and a delicate, velvety surface, making the pigmenting process easier and faster.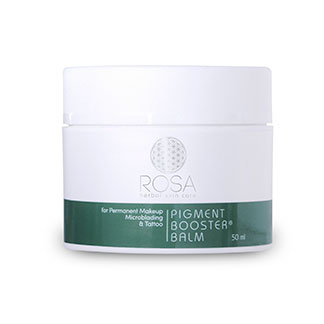 ROSA Pigment Booster Balm, just like the Pigment Booster Oil, accelerates pigment implantation during permanent makeup treatments. The unique formula contains the Pigment Booster® Complex 1, a special blend of ingredients that prepares the skin for optimal pigment implantation, regardless of skin type. It has softening, moisturizing, and revitalizing properties, making the skin elastic. It creates a delicate, velvety surface, which helps to achieve a uniform color, making the pigmenting process easier and faster. The special ingredients in the balm prevent skin dryness, irritation, and sensitization. The consistency of the Pigment Booster Balm is more compact and oily than in the case of Pigment Booster Oil gel.
ROSA Fixing Serum is a so-called fixing serum that prevents the leakage of serum and pigment during permanent makeup treatments. This serum contains, among other things, the Pigment Booster® Complex 3, which is responsible for sealing the pigment in the skin. The serum has astringent properties that prevent the leakage of serum and pigment, and thanks to its ingredients, it helps prevent inflammation.
ROSA Green Soap Concentrate is not your standard green soap! Its high content of vitamins and minerals nourishes the skin, while its ingredients have antiviral, antibacterial, and antifungal properties, protecting against infections and inflammation. Recommended for cleansing the treatment area in individuals with oily and acne-prone skin.
For clients allergic to any of the plant-based ingredients, an appropriate alternative is the White Soap Concentrate. This carefully developed formula contains 100% natural and plant-based ingredients, including rice oil, organic coconut oil, mango butter, and lactic acid, which support skin regeneration, improve its structure, and promote healthy skin flora.

ROSA White Soap Concentrate is a moisturizing and soothing soap for the skin. It is recommended for use before, during, and after PMU treatments to cleanse the skin without causing irritation. It can also help prevent inflammation and support the healing process of wounds. Its gentle formula helps to clean the skin effectively, making it suitable for all skin types.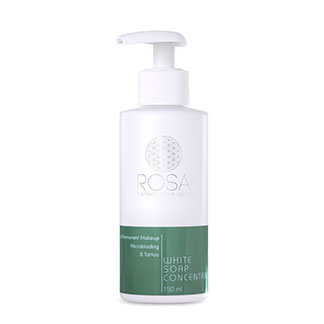 Let's move on to the promised MUST HAVES!
My absolute "MUST HAVES" are Pigment Balm ROSA, which I alternate with Pigment Oil ROSA, White Soap ROSA, and Pigment Fixer ROSA.
ROSA oil is a great alternative to the balm. Both products have different consistencies, but their effects are similar. 
Pigment Balm is more oily and rich in its formula. It is very difficult to choose a favorite in this case, as both products work well on every skin type, preparing it for optimal pigment implantation.
If you've watched my YouTube videos, you know that I used to use diluted green soap to clean the treatment area. Introducing White Soap into the pigment procedure and eliminating the traditional green soap has eliminated any skin reactions around the pigmented area. Additionally, the ingredients in White Soap help retain the pigment in the skin after wiping.
Finally, I use Pigment Fixer at the end of the procedure to fix the color in the skin. It doesn't create a visible occlusion, absorbs nicely, and helps maintain color for longer. Remember to apply it after taking pictures!
Here are a few tips on how to use ROSA products during pigment procedures:
After each full pass, I apply Pigment Oil or Pigment Balm to create a mask with the product and pigment. I leave it on while working on the second brow.
I alternate between the brows and when I want to continue working on the first brow, I remove the balm/oil/pigment mask with White Soap and distilled water. White Soap can be used in two ways.
The first way is to use a wet cosmetic stick and gently massage the White Soap into the brows in circular motions, making sure to do it along and against the hair growth. Then, the product should be wiped off the brows with a cotton pad soaked in distilled water. Before starting the second pass, gently dry the brows.
The second way, which I use more often, involves saturating a cotton pad in distilled water and applying a small amount of White Soap. The cotton pad should be thoroughly soaked, and the soap should cover most of it. A really small amount of the product is enough.

At the end of the procedure, you can apply a pigment and ROSA oil or balm mask again. Leave it on the brows for a few minutes, and then remove it. The skin should be calmed down, and redness and swelling should be minimized.
I understand that choosing products from such a large number on the market can be difficult. (I don't like to buy a pig in a poke myself!) That's why ROSA has created a product with a smaller capacity of 10 ml. Their effectiveness and quality will surely impress you after the first use.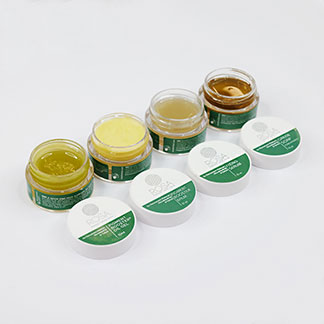 I would love to hear your opinion on ROSA products, and I would be grateful if you shared it. Perhaps you have some great tips on how to use them? I'm waiting for comments and I wish you spectacular treatment results.
 Paulina Osinkowska