Cartridges and Permanent Makeup: How to Choose the Right Needle
2023-05-09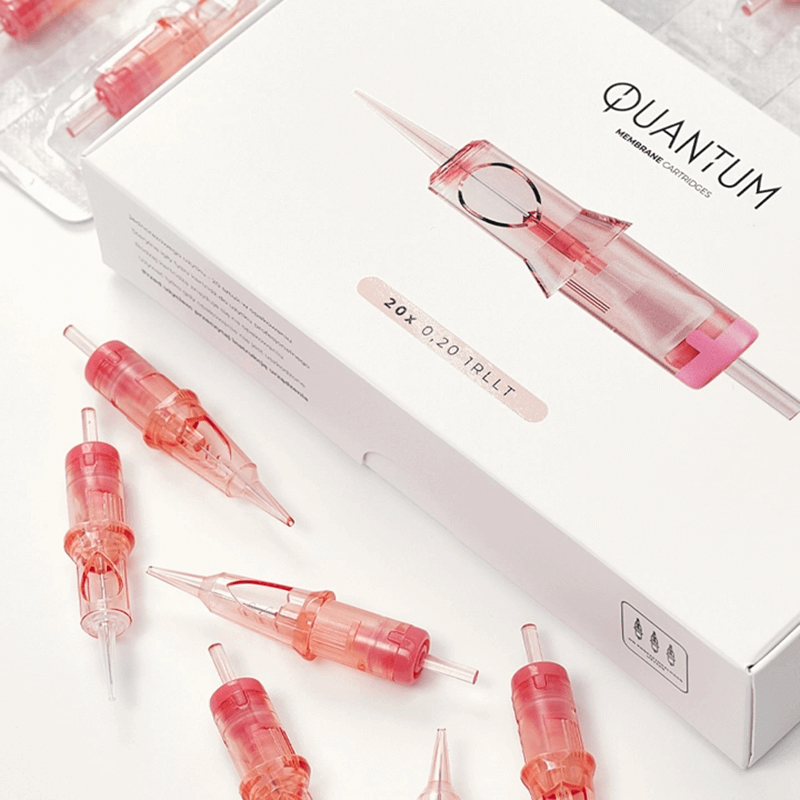 Cartridges and Permanent Makeup: How to Choose the Right Needle
If you are aiming to create flawless permanent makeup, cartridges should be as important to you as your device. How do you choose the right needle? With the variety of cartridges available, the key is to prioritize the health and safety of your client. The first element of a cartridge to pay attention to is the membrane. Using cartridges with a membrane is necessary as it prevents lymph and bodily fluids from flowing back into the machine, thus avoiding cross-contamination.
In addition to their protective properties, the membrane also provides flexibility. Therefore, it is important to know the type of membrane in cartridges, as well as the motor power and stroke of the machine. Quantum cartridges in configurations 1-3 have a medium membrane flexibility, making them versatile and ideal for permanent makeup procedures. During pigmentation, the user should not feel excessive rigidity of the needle or its "soft" bouncing off the skin.
Aside from the membrane, there are other characteristics that may differ between cartridges, such as:
External shell shape and cartridge tip
Thickness (e.g., 0.30)
Needle taper (TAPER)
Configuration (shader or liner)
Steel type
Proper final sterilization
The taper refers to the shape of the needle tip and how it is sharpened. Different needle tapers are designed for different purposes, such as creating fine lines or shading. Choosing a cartridge with the appropriate taper is key to achieving the desired effect. Quantum cartridges have a long taper, which minimizes the trauma and skin damage during the procedure, ensuring comfort during work. The long taper also positively affects the healing process of the skin after the procedure.
The type of steel used in the needle is another element to consider. Quantum cartridges are made of 316L stainless steel. High-quality steel can prevent the needle from bending or breaking during pigmentation. It is important to note that some individuals may have an allergic reaction to nickel present in the needle, which can lead to an allergic response. To prevent this, permanent makeup artists should choose needles made of 316L stainless steel, which is typically hypoallergenic. The question arises: how can we know if the needle has high-quality steel? Primarily, such information should be included in the product description. From experience, we know that cartridges lacking a membrane and made of cheaper components to cut production costs often use low-quality steel. Neglecting each of these elements is often synonymous with low-quality final products.
Using and selecting cartridges can be straightforward if you follow the instructions below:
Check compatibility: Before using a cartridge, ensure that it is compatible with your machine. Not all cartridges fit every machine, so it is important to check if your machine has a universal cartridge mounting system.
Quantum Type A and B cartridges are universal and compatible with many popular machine brands such as Microbeau, Bellar V1 and V2, Flux S Max, Bellar Air, Xion, Xion S, FK Irons, Mast, PillPen, Bishop, Cheyenne, Brow Daddy, Perma Pen, Dragonhwak, Glavcon, and many others.
Secure the cartridge: After confirming compatibility, insert the cartridge into your machine. Some cartridges may require a twisting and locking mechanism or a push and click system after a gentle push in one direction. Always follow the manufacturer's instructions for attaching and removing cartridges.
Adjust needle length: Depending on the device you are working with, adjust the needle protrusion according to the machine's stroke, pigmentation technique, and the pigment you are using.
Choose the appropriate cartridge thickness:
For thin, sensitive, mature, or normal skin, use a needle size of 0.18-0.20. A smaller diameter needle will create a smaller and thinner dot during pigmentation. The needle will be more flexible, and the pigmentation less traumatic.
For normal/mixed skin types, you can confidently choose needle sizes ranging from 0.18-0.30.
For oily, more porous, or thicker skin types, use a needle size of 0.30-0.35. These needles have a larger diameter and are ideal for working on oily or thick skin.
What are the differences between Type A and Type B cartridges?
The main difference lies in the external housing and the tips (beaks) of the cartridges.
Quantum Type A cartridges have a narrow and flat tip, providing maximum visibility and perfect precision. The cartridge has a new internal system that ensures excellent stability and reduced vibration. The beak, with its simple, horizontal flatness, strongly stabilizes the needle and allows for full control of movement during pigmentation. It facilitates clean work, optimizes pigment consumption, and prevents splattering.
Quantum Type B cartridges have a slightly wider and slanted tip of the outer shell , offering versatility in pigmentation depending on the angle and direction it is used. Due to the larger opening in the tip, it can absorb more pigment during pigmentation. The beak's flatness plays a significant role in controlling the position and direction of the cartridge. Depending on the position of the cartridge during pigmentation, the needle will be more flexible or rigid.
Will Quantum One cartridges fit other devices besides Quantum One?
Quantum cartridges with a screw thread were designed specifically for the Quantum One device. They are not compatible with other devices.